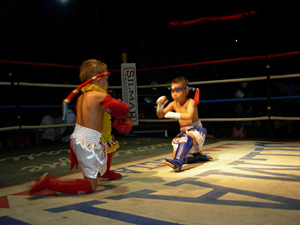 I just fought in a traditional Muay Thai fight! It was cool.
I've seen lots of snakes in Thailand, there were king cobras, coral snakes, and a Malayan pit viper!
One of the good things about Thailand is that there is no snow! This means I don't have to be as cold, and I don't have to shovel.
Here in Thailand there is a palace where once a year tourists come and give a big feast to the monkeys.
Here's what each picture is of:
the first picture is of my Muay Thai fight, that's me with the red gear.
the second picture is of the monkeys I saw, pretty cute huh?
the third picture is of a Coral Snake, cute but deadly.
the fourth picture is of a Malayan Pit Viper, they are super poisonous.
the fifth picture is of a King Cobra, it has a really cool hood thing that it shows when threatened.
Keegan