TWO WORDS AAAAAA-MMMMAAAZZZIINNGGG
I can fly, I know I can if i just try!!!!
WHY HELLO THERE I'M JUST A CUTE BABY SEAL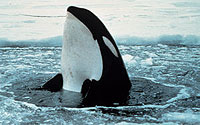 HE JUST NEEDED TO SUN HIMSELF HE STAYED LIKE THAT FOR A LONG TIME.
These are adelie penguins
YYYYYAAAAWWWNNNN!!!!!!!! It is early in the morning here in antartcia , me and The Mouse are on the Ronne ice shelf and it is really cool!, the expedition center we are staying at is warm but outside you need double everything! jackets, pant, sock, hats,etc...... anyway the "headguy" Danny, said that Niki and I should be photographers and then the next day we came back from are day trip he said we need to become scientists.......... I am doing the job of testing the water near and far from the ice shelf to see it's temp and pollution level, after I'm done with that part of my job (it usually takes about 7 hours, starting from 6:00 o'clock am to 8:00 pm) of testing sea animals, from small fish to big sea lions, its really fun this part, first the crew (that's with me and Niki and a few others,) trail a dead fish with a cut in it, to get the smell in to the water (we had an incident when a shark came and swallowed the whole fish!!! then when the sea lions appeared we would net them and give them a shot that makes them go to sleep and test there blood, skin and other places that I would rather not talk about...... then when we get back we eat and sleep instantly from a long day.
Anyway time to get to work here are some pics Niki and I took tell me if Danny was right about the photography career if not science is gonna be the one!!!(up above!:))